2.kolo, Sunday 2.8.2015, 17:00, Eden Aréna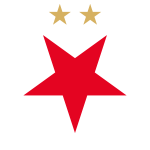 Slavia
Liberec

Slavia: Berkovec – Švec, Bílek, Deli, Jablonský – Souček, Hrubý (90. Červenka) – Mikula, Piták (57. M. Černý), Zmrhal (81. Voltr) – Milan Škoda.
Liberec: Koubek – Coufal, Hovorka, Pokorný, Fleišman – Pavelka (79. Sackey), Folprecht – Delarge, Shala, Kerbr (46. Šural) – Bakoš (62. Rabušic).
Goals: 10. Škoda, 13. Mikula - 2. Bakoš, 56. Šural.
YC: 40. Deli, 87. M. Černý - 64. Coufal.
Diváci: 6739
Commentary
For the first away match of the new season, FC Slovan traveled to Prague to meet Slavia, a traditional team that has been struggling lately.
The game got off to a wild start, just a minute and a bit in, free kick by Zdeněk Folprecht ended in the back of the net after a header by Marek Bakoš.
Slavia was able to tie the score at one just nine minutes later when a corner kick found its way onto the head of Milan Škoda who put it in off of goalie Tomáš Koubek.
Just two minutes later, thirteen minutes into the contest, the score was 2-1 for Slavia when Jan Mikula fired a perfect shot from the right side of the box and beat Koubek.
Slovan could tie things up before half time when Herolind Shala fired one beautifully, but goalkeeper Martin Berkovec managed to make his way to the ball and stop it.
In minute 56, FC Slovan finally managed to score the equalizer when a cross by Vladimír Coufal landed perfectly in front of Josef Šural who slid down to kick it in past Berkovec.
Liberec had another chance to score just a minute later when both Folprecht and Šural became a threat to score, but neither team would manage that again and so the game ended in a tie.