25.kolo, Saturday 21.4.2018

Liberec
Slavia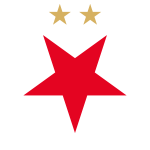 Liberec: Hladký - Coufal (C), Karafiát, Mikula, Kerbr - Wiesner, Folprecht, Breite (84. Kačaraba), Potočný (75. Pilař) - Ševčík (59. Da Silva) - Pulkrab Substitutes: Nguyen, Kačaraba, Bosančić, Pilař, Havelka, Oscar, Da Silva
Slavia: Kolář - Bořil, Jugas, Ngadeu (73. Kúdela), Flo - Souček (C) - Stoch, Hromada (82. Škoda), Hušbauer (50. Danny), Sýkora - Tecl Substitutes: Kovář, Necid, Škoda, Kúdela, Zmrhal, Danny, Sobol
Goals: Yellow cards: 26. Coufal, 39. Folprecht, 56. Kerbr, 69. Hladký - 27. Tecl, 34. Ngadeu, 41. Sýkora, 63. Danny, 74. Hromada, 86. Kúdela, 88. Souček, 90. Bořil Red card: 78. Pulkrab Referees: Příhoda - Blažej, Horák Attendance: 9290
Commentary
Both teams were full of energy from the very beginning and everyone who came to the match between Liberec and Slavia was waiting for real battle.
First big action from Slovan´s side came in 5th minute as Breite shot from a very good position, but the ball went too high. Slavia did not wait for anybody and tried to score first goal. Mikula was in a right place and stopped Tecl on his way, but even the next corner could be dangerous. Souček´s header aimed just in the middle of the net, so Hladký had no problems.
Slovan was dangerous from a quick breaks, but even Slavia found it´s momentum as Sýkora was inside the box, but his try missed the post. Also Slovan had a free-kick but Potočný´s shot was not accurate enough.
First half was full of mistakes made by both sides and because of this the score was 0:0.
The second half started calmly comparing the first half of game and Slavia had the ball more often near its feet. As the 51st minute came Hladký had a job to do. Flo was alone and run towards Liberec´s goalkeeper. Hladký forced Flo to left the ball to Tecl, but he coud not hit it. No change in the score then. After few minutes later Slavia score the goal, but as it was scored from offside position it was not regular.
In 81st minute went the video-referee into the action. Tectl fell down and wanted a penalty kick. Referee had a different opinion. From his point of view there was no need to call the penalty kick. Nobody was able to score in a next minutes, so after the final whistle both team added one point to the table.