N4, Sunday 5.7.2020, 17:00

Liberec
Slavia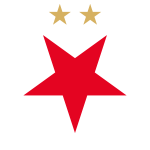 Liberec: Nguyen – Fukala (88. Dvořák), Kačaraba, Karafiát, Mikula – Mara, Michal (79. Králíček) – Malinský (60. Černický), Beran, Ma. Zeman (79. Šulc) – Pešek (46. Mashike)
Slavia: Kovář – Holeš (60. Masopust), Frydrych, Zima – Coufal, Traoré, Hellebrand (60. Stanciu), Oscar, Kosek (60. Provod) – Júsuf Hilál (60. Tecl), Musa
Goals: 80. Králíček - 34. Traoré, 45. Júsuf, 49. Musa. Referees: Franěk - Vlasjuk, Vitner. Yellow cards: 38. Pešek - 74. Musa.
Commentary
A similar fate befell Mikula's long-range projectile in the 19th minute, which sailed high above the crossbar. Accuracy was also lacking in Kačaraba's attempt, which after a standard situation from the left side called for Zeman's header. The ball landed again just over the goal.
The series of inaccurate shots ended with a Slavia penalty kick from the left side, which rebounded to the left post and found a waiting Ibrahim Traoré, who knocked the ball off the post and into the net. Filip Nguyen was helpless. After 41 minutes, a couple of quick and successful challenges followed by a shot from just outside the penalty area by Petar Musa nearly resulted in a goal for Liberec.
However, he was not enough for another attempt before the break, Júsuf Hilál stretched out in a standard situation and hit Nguyen with a ground shot, who apparently did not see the ball flying under the wall very well. After the break, the visitors continued at the set pace and added a third goal, as Petar Musa tried a lob from the head and executed perfectly.
Kamso Mara had a fantastic opportunity to put Slavia up by four 58 minutes into the match, but he fired just over the crossbar. A moment later, Musa fired from the volley, and again missed. The show of events continued and Michal Beran, who relaxed nicely on the edge of lime, also drew attention to himself. His attempt eventually resulted in a corner.
Soon the game calmed down on both sides, and was played mainly in the middle of the field. Stanislav Tecl could have increased the lead after 74 minutes, but his shot hit the post after a nice combination in the middle of the park. Finally Slovan scored, just a minute after a substitution, Jan Šulc and Milan Králíček set off on a quick break and the latter delivered the ball to the goal. They were the first points in the league for both players.
In the end, Filip Nguyen managed to ward off Lukáš Masopust's attempt as Nico Stanciu again hit the left post of Slovan's goal. But the score did not change, and so Slovan lost to Slavia 3-1.