26.kolo, Saturday 30.3.2019, 17:30, Sinobo stadium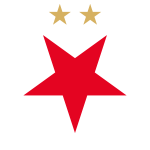 Slavia
Liberec

Slavia: Kolář - Coufal, Kúdela, Deli, Bořil - Souček, Traoré (79. Olayinka) - Masopust (46. Hušbauer), Stoch, Zmrhal (66. Van Buren) - Škoda (C).
Liberec: Nguyen - Fukala, Kačaraba, Karafiát, Hybš - Breite (C) (90. Vuklišević), Oscar - Malinský (76. Koscelník), Potočný, Pešek (58. Oršula) - Kozák.
Goals: 69. Bořil - 72. Breite. Yellow cards: 54. Zmrhal - 34. Kozák, 47. Malinský, 80. Karafiát. Referees: Machálek - Kotík, Batík.
Commentary
In just the 2nd minute of the match, Potočný and Kúda knocked heads and went down. They both continued to play after medical treatment. In the 7th minute, Pešek centred for Kozák. He pulled the ball, but to the surprise of everyone he got to Potočný, who fired from a distance, but Kolář turned his shot at the corner. The chance-filled match continued. After a hectic start, the game calmed down a bit. Only in the 20th minute did Slavia have the advantage of a direct free kick. After a series of deflections, Kúdela fired from the edge of the penalty area but Nguyen was ready. Three minutes later, Hybš blew past everybody and Nguyen had to face Stoch's bomb. There were three touches from the next corner. However, none of them found their way into the goal. In the 33rd minute, Potočný let go again. This time his shot from long distance sailed high. Five minutes later, Souček's header was not strong enough, and Nguyen was able to handle it without any problems. Then Škoda rushed in alone on Nguyen, who ran out in time and the Slavic captain had no time to rebuke him. At the end of the half, Slavia was still playing the standard formation, but Stoch's centre raised Potočný to the corner. There was no danger, and the game was still scoreless at halftime. In the second half, the home side threatened for the first time. In the 50th minute, Hušbauer fired and Nguyen directed the shot to the corner. After an hour of play, there was a quick shot from Coufal, but he didn't have a good angle and Nguyen caught it. Then Souček's corner went directly into the arms of the Liberec goalkeeper. At the other end, Slovan finally got something going after a long time. From a set piece, Slovan had a sniff but there was no threat to Kolář. Unfortunately, in the 69th minute Slavia broke through. Hušbauer's pass found a completely open Bořila and he fired uncompromisingly under the bar for a 1-0 Slavia lead. Three minutes later, however, it was answered. From Potočný's cross from the corner, rookie Fukala gathered the ball and found Radim Breite at the far post, who rippled the mesh to make it 1-1. In the 82nd minute, after a Slavia combination, Van Buren had a chance but his shot flew high. Four minutes later, Hušbauer's drive from long distance hit the post. Nguyen distinguished himself and scrambled to the corner with a tiger jump. In the 89th minute, Slovan gave Slavia's Škoda too much space, but his attempt went right to Nguyen. Soon after, Hušbauer fired low. At the set time, Liberec held Nguyen back as he set off Stoch's free kick. So Slovan managed a 1-1 draw at Eden.