21.kolo, Saturday 18.3.2017, 16:30, U Nisy

Liberec
Slavia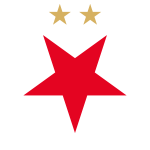 Liberec: Dúbravka – Karafiát, Kúdela, Latka (16. Breite), Kerbr – Graiciar (68. Voltr), Obročník (65. Bosančič), Ševčík, Ekpai – Baroš (C), Potočný.
Slavia: Pavlenka – Bořil, Lüftner, Deli, Flo (56. Tecl) – Sýkora, Hušbauer (90. Ščuk), Barák (68. Mešanovič), Ngadeu, Zmrhal – Milan Škoda (C).
Goals: 40. Ekpai - 14. Zmrhal. Referees: Ardeleánu - Wilczek, Vlasjuk. Yellow cards: 59. Obročník, 73. Potočný, 90. Dúbravka - 60. Bořil, 75. Zmrhal, 89. Sýkora. Red card: 90.+1. Bosančič.
Diváci: 8880
Commentary
Slavia was on the top of the table, so our team had another difficult match. Because of conditions of loans two Slavia players Souček and Mikula, Jindřich Trpišovský must changed starting eleven little bit – Kerbr replaced Mikula and Obročník replaced Souček.
And team from capital started in better way. Long throw in ended on the other side of big square and Dúbravka faced Lüftner with success. After a minute, Deli hit the post from close range. In 14th minute, there was a cross in front of Dúbravka and Jaromír Zmrhal had enough space and time and opened the score. Slavia could doubled the score, but Škoda missed and after him Lüftner hit only the bar of Slovan´s goal. Slovan managed to equalised from minimum of chances, when Potočný win the ball and passed to Moses Ekpai, who hit the ball perfectly into left corner of Pavlenka´s goal.
In the beggining of second half was played careful football, first chance had Potočný, whose strong shot missed the goal. Dúbravka could have worries with chances of Škoda and Deli, but they failed. In 70th minute Hušbauer sent a beautiful shot, but it was stopped by the bar. In last 15 minutes, Slavia pressed and wanted to win, but Tecl or even Hušbauer did not score. In additional time was sent off Miloš Bosančič, but the important point Slovan have anyway.