7.kolo, Monday 19.9.2016, 19:00, Eden Aréna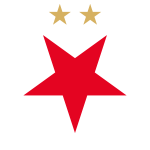 Slavia
Liberec

Slavia: Pavlenka – Mikula, Bílek (C), Deli, Bořil – Ngadjui – van Kessel (46. Barák), Hušbauer, Zmrhal (81. Frydrych), Mingazov (66. Mihalík) – Milan Škoda
Liberec: Dúbravka – Coufal (46. Nitrianský), Hovorka, Latka (C), Bartošák (76. da Silva) – Karafiát, Folprecht - Bartl, Navrátil, Vůch – Komlichenko
Goal: 60. Škoda. Yellow card: 2. Mingazov. Referees: Hrubeš – Ratajová, Arnošt.
Diváci: 6882
Commentary
In seventh round of ePojisteni.cz League, Slovan played in Prague against ambicious Slavia.
In 7th minute Karafiát found Vůch, but his attempt blocked defender. In 25th minute tried header the biggest thread of Slavia - Milan Škoda, but Dúbravka saved. Before end of the first half time Slavia had two more chances. Mikula hit post a then Mingazov´s header from just a few metres Dúbravka saved with reflex.
After switching sides Slavia had another goal attempt after corner kick, but Škoda missed. On the other side Karafiát shot from free kick, but Pavlenka savedmwithout problems. First goal of the match came in 60th minute. Dúbravka couldn´t make clearence after cross from corner kick, Hušbauer pass back in small square and Milan Škoda scored. In next moments, Slavia could even doubled the score, Antonín Barák shot over the bar in 100% chance. Slovan was trying to attack, but cannot work some chance out and from Prague left without points and stays on 14th place in league table.