11.kolo, Sunday 22.10.2017, 18:00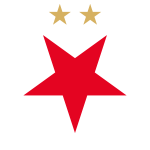 Slavia
Liberec

Slavia: Laštůvka - Bořil, Frydrych, Jugas, Sobol - Souček, Hušbauer - Sýkora (59. Danny), Van Buren (74. Necid), Stoch - Škoda (C).
Liberec: Kolář - Coufal (C), Kúdela, Karafiát, Hybš - Kulhánek, Breite - Ševčík, Bosančič (89. Mikula), Potočný (75. Voltr) - Graiciar (82. Pulkrab).
Goals: 90+4. Necid - 35. Potočný, 73. Bosančič (pen.). Referees: Pechanec - Arnošt, Koval. Yellow cards: 41. Sýkora - 62. Kulhánek, 67. Potočný, 74. Bosančič, 83. Pulkrab.
Commentary
Liberec have begun this match in defence because it was Slavia Praha, who came with offensive play. Sýkora, who was found by Hušbauer, had the biggest chance of first minutes but slipped in the end of all action. After a mistake, another chance for Slavia came. Kolář was in the right place and made a save against Van Buren´s shot. Also, Liberec spent some time near the penalty area, but the bigger chance did not come.
Slavia managed to create more dangerous chances. One of the example was the action, after it Škoda had good position for taking a lead, but, the ball rolled between his legs. In the next chance, also Hušbauer was not successful. After thirty-five minutes the first goal came and it was Liberec who scored. The ball came to Roman Potočný after a cross and visiting team could celebrate after his shot to the net. The score could be tied five minutes later. Van Buren gained the ball and was heading alone towards Slovan´s goalkeeper, but at the end, Kolář made a good save.
Slavia could equalise in a very beginning of second half and it was Van Buren again who showed up his football knowledge, but his lob was too high. Also next chance of home team could end by a goal, but also this time Van Buren failed. Slavia had more chances, but Liberec benefited from the efficiency. Two goals lead came when the referee pointed for a penalty kick. Miloš Bosančić took the ball and even Laštůvka chose a good side, he was too short to stop a ball. Home team wanted to score so much that they forgot completely about defence. Voltr could score a third goal but Laštůvka had not big problems with his shot. Another action came after Bořil´s try, but Kolář made a brilliant save. In the last seconds Slavia only reduced the score as Tomáš Necid scored by the shot from the penalty box.